Car Rentals - Safe travel at your own convenience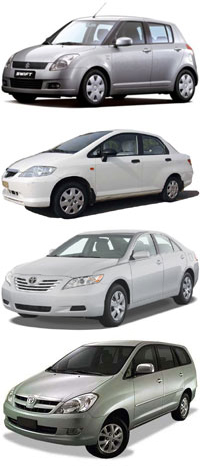 We intend to make your journey pleasurable, safe and very convenient and our car rental services exemplify our belief. Our cars are:
Driven by police verified chauffeurs, who are well trained and uniformed, experienced in attending senior executives of MNCs as well as foreign nationals
At your service for one way and return transfers as well as city travel
Well maintained and equipped with Car tracking device, first aid kit, daily newspaper, mobile phone [with chauffeur], radio/stereo
Amongst latest models [2005 onwards] and varied options [50 cars, ranging from Budget to deluxe to luxury, small and executive cars] to choose from
Having All India Tourists Transport Permit
Available on time as our car stations are located at several prominent locations in Delhi
There in 15 minutes to serve you if you call from the airport
At your disposal once hired - get down at your own pace and convenience
* We also provide luxury coaches in case you are travelling in a group
* 24 hour assistance from our duty and dispatch room [just a phone call away: +91 93138496134, +91-11-32040002]
* Guides who speak your native language [French, German, Japanese, Italian and Spanish etc.] [Available only at special request]
Experience a safe and convenient journey by telling us your preferences for car rentals and we'll be there serving you well:
Submit your car rental requirements to us at and we'll serve you with a difference.