Monuments of India - Feel Magnificence of rich Indian legacy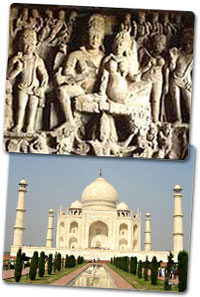 Indian monuments' magnificence will leave you spell bound while also offering unmatchable insights into India's rich cultural heritage and architectural past. They are a wonderful reservoir of knowledge for historians, make a beautiful canvas that speaks of colors of India's ancient culture, tell tales and mysteries of kings and queens, and proudly talk of battles fought bravely. Many of these are listed amongst
UNESCO World Heritage Sites
of India.
Indian monuments pacify all your senses by giving you leisurely mornings with experience of royal living, spiritual space and insight into history and culture, opportunities for simple sight seeing to educational trips and much more.
Here is a quick glimpse of few of the Indian monuments; however, the list doesn't end here. Rest is left for you to unravel and explore:
Ajanta and Ellora caves, Maharashtra [Over 60 caves in total, dating back between 200 BC and 700 AD, represent amalgamation of Buddhism, Hinduism, Jainism]
They boast of having one of the largest rock-hewn temples, marvelous paintings and architecture. Visiting them will make you relive the defining moments of Lord Buddha's life. Cut out from Deccan's volcanic lava, Ajanta caves are stunning pieces of Buddhist architecture. One of the most stunning sites in Ellora caves is Kailasa temple that took 100 years to build and is carved out of a single rock. The incidents and themes from Puranas are exquisitely carved inside these caves.
Konark (Sun) Temple, Orissa [13th Century temple, also known as Black Pagoda, belongs to Kalinga School of Indian Temples]
A perfect place to gain spiritual experience, it talks of military victory marked by Raja Narasimhadeva. Its structure symbolizes sun's chariot with 24 wheels and 7 horses. The shadows formed by the wheels' spokes act as sundial and tell precise time of the day. You can also observe various floral and geometric patterns all around the temple.
Taj Mahal, Agra - [Construction began in 1632 and completed in 1653, listed amongst 7 wonders of the world]
Monument of love and finest reflection of Mughal architecture, it is a tribute to beauty. It was built by Mughal emperor Shah Jahan on the banks of river Yamuna, in the memory of his wife Mumtaz Mahal. Taj's sparkling view in the moonlight makes people vouch for love. The white marble tomb that was built by 20000 artisans talks of grandeur and grace.
There are plenty of other exciting sites to see in Agra. The Agra Fort, a red sandstone structure, was built almost 1,000 years ago. There is also Akbar's Tomb, which features beautiful red-ochre sandstone.
Those looking for a place to stay in Agra
should not hesitate to use the internet to find some good hotels in the area. There is plenty to see in the area and tourists should not hesitate to take advantage of the online tools at their disposal, as it is the key to embarking on an unforgettable vacation.
Qutab Minar, Delhi - [World's tallest brick minaret, built in 1199 A.D. by Qutub-ud-din Aibak]
Another masterpiece of Mughal architecture, made of red stone, it has over 370 steps leading to its top storey. The tower has numerous Arabic inscriptions that tell its history. Within the Qutab complex, there are several other structures like Tomb of Itutmish, Alai Minar, mosque 'Quwwat-ul-Islam'. Another erected iron pillar in the complex proclaims of metallurgical excellence of India.
Hawa Mahal, Jaipur - [Built in 1799 by Rajput rulers, also called as 'Palace of Winds']
Built with an intention of allowing royal ladies to observe everyday proceedings in the court and other happenings, without their being seen, it talks of mystery and architectural excellence. Constructed with red and pink sandstone, it has over 950 small windows that allow the breeze to circulate and keep the structure cool despite heat. It also houses an archaeological museum, small balconies and arched roofs, making the entire building look so captivating and giving some of the finest views of city of Jaipur.
Khajuraho Temples, Madhya Pradesh [9th to 12th century temples, from Chandela Dynasty]
Over 20 [originally 85] temples that make a truly bold artistic statement, have amazing sculptures and carvings. The carvings on the temples' walls depict human bodies, erotic themes, and everyday life of the common Indian man at that time, musicians, farmers and much more. The temple complex also hosts a light and sound show regularly. The show covers the philosophy, art and history of these temples.
Mahabalipuram, Tamil Nadu [Center of Pallava culture and arts, built during 830 -1 100 A.D]
The temple town of Tamil Nadu is famous for its monolithic sculptures and rock carvings. It is also known for its Dance festival, carved hill edges, temples constructed in style of chariots. Shore temple on the sea shore, Isvara temple, large rocks like Five rathas, Arjuna's Penance, Bhagiratha's Penance tell tales of various Indian epics. You can also get a breathtaking view of Bay of Bengal from its thousand years old lighthouse. The gigantic waves of Bay of Bengal crashing through the temple give a majestic view.
Tanjore, Tamil Nadu [Cultural capital of the country in 1790, famous for its temples, bronze sculptures and paintings]
The greatness of each of the Tanjore temples is marked by its uniqueness. The Brihadeeswarar temple is identified by its tall lingam that is reached by the priests through stairs. RajaRajesuram temple has been sculpted completely from stones and no mountains. The three entrances of this temple are further a gateway to many more temples inside. The inner ceilings of few of these temples and the beautiful frescoes that adorn the walls are a reflection of the Chola times.
Hampi, Karnataka [Medieval capital of the Hindu empire Vijayanagara, housing around 500 monuments]
A backpacker's paradise, Hampi ruins have temples, palaces, ancient market streets, treasury buildings, fortifications and lot more. Some of the key attractions of Hampi are Virupaksha temple [one of the oldest active temples in India], Royal enclosure [has ruins of many structures], Vittal temple [has musical pillars that resonate when tapped], Kadalekalu Ganesha [Giant statue of Hindu God, Ganesha], Queen's bath and Lotus Mahal.
Somnath Temple, Gujarat [Known as 'Shrine Eternal', has been destroyed many times and rebuilt every time]
Facing the Arabian Sea, Somnath temple offers you a spectacular sight. The temple is believed to be originally built out of gold by Moon God, Somraj, then rebuilt in Silver by Ravana, then in Wood by Krishna and then in stone by Bhimdev. It comprises of one of the 12 Jyotirlingas of Lord Shiva and symbolizes rich cultural heritage of India.
Our Services
Custom tour packages to give you what you want, in your budget and within your timelines
Suggested tour packages with focus not just on adventure of the place but also on cultural interactions. [Charges inclusive of accommodation, surface transport, guide and entrance charges]
For further queries and assistance, please mail us at

or submit your query to us and we'll be there helping you organize your trip.