Beaches of India - Let the sands and waves sweep you off your feet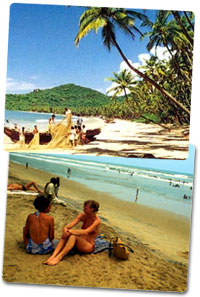 Make most of your
beach vacation
by sunbathing or visiting some of the exquisite spas in the beachside resorts; let the adrenaline rush by doing scuba diving, surfing, parasailing or bungee jumping and whole lot of such activities; indulge in retail therapy by shopping for local wares sold through outdoor shacks; feast on delectable cuisines and lot more on Indian beaches.
A haven from the concretes and congestions of the urban lands is what Indian beaches bring you. They let all your senses rejoice and are just perfect for anything from a romantic honeymoon to a family vacation, an adventurous holiday to a business trip. Spend the entire day listening to the music that waves create when they crash against the shore. You'd love to just laze around and get that tempting tan while enjoying the delicious seafood and amazing curries, indulge into the picturesque view of palm grooves and bays, enjoy venturing on the islands and explore black lava rocks.
Some of the fascinating beaches of India are:
Beaches in Goa
Also called as
'Beachside Haven'
, Goa offers you umpteen choices among some of its finest beaches like:
Anjuna Beach [also known as Freak Capital of the World],
Agonda Beach [picturesque and serene],
Baga Beach [ideal for fishing and enjoying private moments],
Arambol Beach [touches some of the very attractive bays],
Cavelossim Beach [explore the black lava rocks and watch dolphins],
Colva Beach [here sand, sky and sea seem to blend beautifully],
Dona Paula beach [famous for water scootering]
and many more.
It's not just the beaches in Goa that captures your heart but the amazing essence of Portugese architecture as well that is reflected by its churches [like Basilica of Bom Jesus, The Se Cathedral etc.] Beaches of Goa vary from being rocky to sandy, having attractive bays, being ideal for adventure sports to private dens for enjoying the serenity and tranquility of the sea away from hustle and bustle.
Beaches in Kerala
One of the best beach destinations in the world, Kerala's 900 km of coastline has an amazing stretch of beaches, backwaters and coconut palms. The blue waters and overwhelming greenery make a perfect combo to seize your heart and soul. Some of its famous beaches are:
Kovalam Beach [famous for Lighthouse beach and beautiful Arabian Sea touching the golden sands],
Kumarakom Beach [cluster of little islands],
Beypore Beach [famous for construction of an Arabian trading vessel, Uru] and
Varkala Beach [a seaside spa, has mineral springs and a 2000 year old temple]
Get fascinated by the clusters of small islands, virgin territories where fishermen get their daily catch for livelihood, swaying palms, lagoons, lakes, fresh water rivers, mineral water springs, stretch of rocks, hilly backdrops and enjoy this beach paradise on earth.
Beaches in Orissa
Orissa coastline has some of the finest beaches and religiously sacred beachside spots. The magnificent monuments and beautiful temples like Konark Sun and Lord Baladeva reflect the old world charm of Orissa while its beaches offer surfing delights to water babies. Some of the very pristine beaches of Orissa are:
Gopalpur on Sea [good for surfing and sailing],
Puri Beach [a sacred beach resort],
Konark Beach [considered as one of the best in eastern coast and its proximity to famous Konark temple],
Balighai Beach [extremely picturesque with ocean coast and casuarinas trees lining the river] and
Paradeep Beach [has amazing marine drive]
Orissa's beaches offer you lot of excitement and serenity in the form of beachside temples, a Sea Turtle research centre, seaport for trade activities, huge estuaries, and amazing marine drives.
Beaches in Tamil Nadu
The chromatic beaches of Tamil Nadu form an ideal beach holiday spot on the coasts of South India. Tamil Nadu is blessed with having the second longest beach in the world, the Marina Beach. The beautiful sunsets and sunrises on its beaches will simply leave you mesmerizing. Tamil Nadu is home to some of the loveliest beaches like:
Marina Beach,
Kanyakumari Beaches [surrounded by Indian Ocean, Bay of Bengal and Arabian Sea],
Mahabalipuram Beach [one of the oldest ports and second capital of Pallava Dynasty],
Dhakinachitra Beaches [a venture showing heritage of South India] and
Kurusadai Islands [an ecological paradise]
The list is simply inexhaustible. The beaches here are popular for their coral reefs, rare species of marine life, backwaters and estuaries, angling and surfing, pristine sunsets and sunrises and pilgrim centers like Rameswaram.
Beaches in Andaman and Nicobar
Andaman and Nicobar islands make a tropical paradise where you can get marooned on the coral islands amidst crystal clear waters and sandy stretches of its beaches. These islands are also famous for Cellular jail, and activities like scuba diving, yachting, lagoon cruises, trekking and snorkeling, forests, coconut canopies and marine life. Some of their best tropical beaches are:
Corbyn's Cove [very picturesque],
Karmatang Beach [nesting ground for turtles],
Beaches of Port Blair [a coral wonder],
Havelock and Neil islands [spot the frolicking dolphins] and
Cinque Island [ideal for water sport lovers]
All in all, Indian beaches offer scenic natural beauty, stretches of golden and white sands, exotic and rare marine life and coral reefs, ruins and pilgrim centers, adventure sports, tranquility and serenity, vast coastlines, health resorts and spas, mesmerizing sunsets and sunrises, engulfing views of vast seas and bays, festivals and delectable cuisines. What else you need to make your holiday so perfect!
Our Services
Custom tour packages to give you what you want, in your budget and within your timelines
Suggested tour packages with focus not just on adventure of the place but also on cultural interactions. [Charges inclusive of accommodation, surface transport, guide and entrance charges]
For further queries and assistance, please mail us at

or submit your query to us and we'll be there helping you organize your trip.