Kerala Backwaters - Intoxicate your senses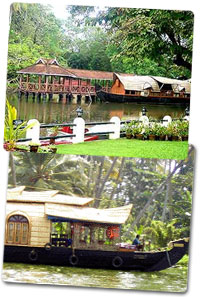 Kerala's palm-fringed backwaters, listed amongst '50 destinations of a lifetime' by National Geographic Traveler in a special collectors' issue, are one of the most exotic tourist attractions because of their splendid and truly picturesque array of waterways, lakes, estuaries, deltas and over 40 rivers.
The striking sand, sun-kissed beaches, swaying palms, floral carpets, splendid sunsets, sparkling moonlights, sounds of rippling water - all create a perfect ambience to bring out the romantic you. You will simply love the passion they build up and how they intoxicate your senses. Nothing is as perfect as
Kerala backwaters
to let your flowery creative energies unleash themselves.
Kerala backwaters are a poet's paradise, an artist's heaven, a romantic's soul and everyone's majestic kingdom with the vastness of nature that they entail. '
The God's own country
' Kerala, also offers this old world charm of sailing in houseboats that have all the comforts of a good hotel.
The houseboats [
also called kettuvallams
] are more like floating cottages that are well furnished and also offer a sit out on the deck. Food [
with Kerala flavors
] is cooked on board by the accompanying crew.
Enjoying the authentic food cooked in inimitable style, amidst the musical surroundings with birds singing beautifully and creating their own music, swaying palms, quacking ducks will leave you with a completely enchanting experience. You can also spot unique species of aquatic life, water birds and animals.
To cure ailments of the '
urban civilization
', Kerala backwaters embrace you beautifully in their tranquility, while green choristers play night music to make you fall asleep. They also open up a rejuvenating path for your other ailments as well, by the way of Kerala's ayurvedic healing therapies like Yoga, massage etc.
All in all,
Kerala offers you
:
Meditational space for your soul
Nature's lap for your senses
Romance of the backwaters
Music of birds, water, palms and waves
Rustic charm of houseboats mixed with comforts of the modern world
Inimitable and authentic cuisine for your taste buds
Ayurvedic healing for your body, mind and heart
And lot more that is
unexplored and beyond imagination:
Rain forests in North Kerala, offering exotic scenic beauty
Jeep safari to explore the wild and thrilling side of Kerala
Hills like Vagamon to experience the mystical solitude in tree houses
The Garden Town 'Malampuzha' to enjoy the ropeways, dams, reservoirs
Wayanand hills, a great adventurescape, with numerous trails and trekking routes
Ponmudi, for great mountain retreats
Beautiful tea plantations
Location
: South of India, lying parallel to Arabian Sea coast [
Malabar Coast
] [Kerala map]
Backwaters
: Thiruvallam, Kumarakom, Cochin, Kottayam, Trivandrum, Kollam, Periyar, Munnar, Anamudi, Alleppey
Access modes
: By Air - to Cochin or Trivandrum Airport
Our Services
Custom tour packages to give you what you want, in your budget and within your timelines
Suggested tour packages with focus not just on adventure of the place but also on cultural interactions. [Charges inclusive of accommodation, surface transport, guide and entrance charges]
For further queries and assistance, please mail us at

or submit your query to us and we'll be there helping you organize your trip.