Trekking and mountains - Discover your own endurance in the rugged Indian terrains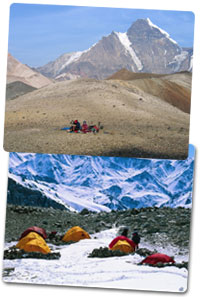 Get off the beaten 'Trek' and explore the tranquility and adventure of mountains of India. Match up the scale and destination with your ability, which is capable of touching the heights. What else could be a better way than climbing those heights, trekking the rough terrains and letting the adrenaline rush through your veins.
Treks in India range from easygoing to moderately strenuous to challenging higher altitude treks.
Treks below 3000m - Easy treks
Treks below 4500m - Moderate - suitable, if you're are fit enough
Treks up to 5500m - High altitude, require high fitness and endurance
These treks and mountains don't just offer you a rugged and adventurous experience but leave you touched with the warmth and hospitality of the people living there. They bring you even closure to Indian culture. The spectacular landscapes further add to the charm of the adventure.
India's [and around] Treks and Mountain regions that help you discover your endurance besides giving you the thrill of expedition and adventure
Trekking in Garhwal and Kumaon
The Garhwal and Kumaon regions of Uttaranchal have some of the most popular trekking routes. The picturesque view of the high Garhwal Mountains, lakes and valleys is a delightful treat to eyes, whereas the passes and peaks of the glaciers near rivers in Kumaon offer most enthralling trekking experience. Garhwal region also offers some of the best cycling escapades to explore the beautiful surroundings.
Popular treks of Garhwal and Kumaon:
Garhwal
- Harkidun, Valley of Flowers, Dodi Tal, Yamunotri, Nanda Devi, Kedarnath Vauki Tal, Gangotri Nandavan, Roop Kund, Kauri Pass, Gangotri Gaumukh, Kedarnath, KalindiKhal Pass
Kumaon
- Pindari Glacier, Kafni Glacier, Sunderdhunga Base Camp, Pancha Chuli Base Camp, Milam Glacier, Nanda Devi East Base Camp, Namik Glacier
Trekking in Ladakh
One of the most rugged regions of Himalayas and the world's highest motorable road pass that falls between the Tibetan plateau and the Great Himalayan range is a paradise for adventure sports lovers and trekkers. On the way, you get a magnificent treat of beautiful landscapes, forest valleys and alpine meadows. Ladakh offers some of the extremely challenging treks for tougher souls. The spiritual vibes created by the monasteries in few of the regions there, build the calmness inside that adds to your endurance and confidence to beat those treks.
Popular treks of Ladakh:
Indus valley, Spituk, Sham, Spiti to Ladakh, Ladakh monastery, Wild Ladakh, Nubra Valley, Manali Ladakh, Tsomoiri Lake, Lamayuru Chilling via Dung-Dung La, Sangla to Leh, Stok Kangri, Frozen River, Ladakh Zanskar, Rupshu, Hemsi Rupchu Darcha
Trekking in Sikkim
Trekking in Sikkim offers you not just some of the great treks, but also the amazing views of snow clad mountains, hills with beautiful waterfalls, paddy fields, tea gardens, rivers and alpine lakes and lovely orchid gardens, delightful tastes of regional delicacies, warm hospitality of the locals, streams on the way, old monasteries, snow leopards, yaks and much more. It quenches your thirst for adventure, sightseeing, and knowledge of Buddhism and boasts of being the guardian for World's third highest peak, Mt. Kanchenjunga.
Popular Treks of Sikkim:
Yuksom - Dzongri - The Goecha La, Darjeeling and Sikkim, Singalila Ridge and Goecha La, Sikkim and Kanchenjunga, Kanchenjunga Base camp, Green Lake, Kalimpong
Kashmir Valley
With beautiful Dal Lake and its houseboats, picturesque beauty of snow caped peaks, Mughal gardens, chinar trees and some of the very famous treks, Kashmir is not farther from being called 'Paradise on earth'. It offers you a truly mesmerizing experience of Shikara rides and staying in houseboats in the lakes that also have floating flower and vegetable markets. Kashmir's intricate art works, carpets, cashmere and pashmina scarves that reflect rich Kashmiri tradition make a good home maker's collection. Kashmir valley also makes for a great adventure destination.
Popular Treks of Kashmir:
Gulmarg, Amarnath, Sonamarg - Kashmir valley, Gangabal Lake, Tajiwas
Trekking in Rishikesh
A beautiful blend of breathtaking views of exotic hills and flowing rivers, thrilling experience of white water rafting, beach camping, dense forests having rare Himalayan animals and birds, serenity of hills, is what surmises Rishikesh. Rishikesh is also renowned for various centers of meditation and yoga, spas and ayurvedic treatment centers. It's also called as 'The Land of Gods'.
Popular Treks of Rishikesh:
Sima, Rishikesh, Gopeshwar, Pipalkoti, Kalpeshwar, Rudranath, Sagar, Dumukh Toli, Kalindikhal, Rishikesh-Pauri-Binsar
Trekking in Nepal
Talk about soft treks to adventurous trails, virgin treks to beaten trails, Nepal has it all. It is home to eight highest peaks of the world. Explore the exotic Kathmandu before moving on to remote mountain towns for treks. Nepal's mountainous regions give you some of the most spectacular views of Himalayas. The famous mountain ranges are Lukla, Annapurna, Dhaulagiri, Churia, Terai, Khumbu region [trek to the foot of World's highest peak, Mt. Everest here].
Popular Treks of Nepal:
Goyko Ri, Kala Patar, Langtang, Mustang, Cho Oyu region, Lhotse region, Dudh Kosi
Trekking in Bhutan
The cultural and adventurous spirit of Bhutan is quite inviting. Also called as 'The Land of Dragon', its beautiful lush green valleys, spectacular and panoramic mountains, monasteries, religious festivals, architectural splendors, exotic cuisines, and friendly people offer you an exhilarating insight into its wilderness.
Popular Treks of Bhutan:
Gangtey, Druk Path, Laya/Gasa Hot spring, Chomolhari, Bumthang, Haa valley ancient trade route, Lhuntse, Lunana
The list is inexhaustible. There is lot more that Indian mountains offer for the adventure seekers and nature enthusiasts.
Our Services
Custom tour packages to give you what you want, in your budget and within your timelines
Suggested tour packages with focus not just on adventure of the place but also on cultural interactions. [Charges inclusive of accommodation, surface transport, guide and entrance charges]
For further queries and assistance, please mail us at

or submit your query to us and we'll be there helping you organize your trip.